How to Use a Toilet Brush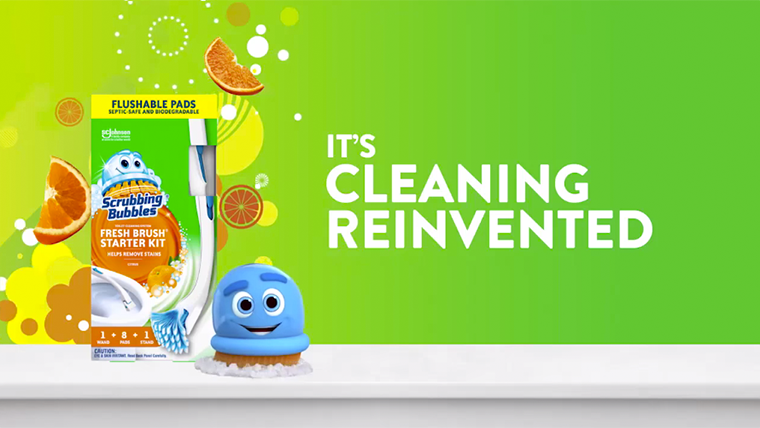 "Talk about embarrassing, I thought they were always saying 'bubble, bubble, toilet trouble."
-Scrubby
Using a toilet brush is not all that complicated. All you really need to know is the bristly end is for scrubbing, the handle end is for holding, and go. But if you don't want to deal with a messy toilet brush at all, Scrubby has a tip!
Scrubbing Bubbles® Fresh Brush® Toilet Cleaning System is the only toilet cleaning system with flushable pads! What was easy just got a whole lot easier. All you need to do is flush the dirty pads away when you're done. No rinsing, no storing, and no icky eyesore next to your toilet.
Just a sparkling flush without the brush!
How-To Steps
TO ASSEMBLE Fresh Brush® Flushables: Snap the two handle pieces together until the tabs lock. Assembly is permanent.
Open pouch by cutting at dotted line. Break off one pad.

Slide blue button on handle away from you to open the jaws fully. Line jaws up with a pad, grasp the pad, then slide button toward you until you hear a CLICK.

Immerse pad in water and swish to activate cleaner. Scrub bowl, including under the rim.

Slide blue button away from you to release pad into the toilet. Flush the dirty pad away!

Store handle in the stand.
Note: Any toilet and drain line can clog if overloaded with bulk waste. For best results, flush only one pad at a time and separately from other tissue or wipe. IF USING A LIFT PUMP, DO NOT FLUSH PADS. Store handle and unused pads in a dry place. Reuse the handle with a clean flushable pad.